IDF: Control of Gaza is split at several levels
10.12.2023
(photo credit: REUTERS/Ronen Zvulun)
Genaue Zahlen über den Stand der israelischen Operation.
Statistically, the IDF has undertaken 22,000 attacks, but it has still only killed 7,000 Hamas forces, with probably also several thousand additional wounded, and some several hundred arrested.

If two weeks ago, the IDF had taken apart a third or less of Hamas's 30,000 forces, it may now be closer to around 50%.

If there were 1.2 million Palestinians in northern Gaza on October 7, now the IDF estimates there are only 150,000, with there being around 800,000 in Khan Younis and 750,000 in Rafah, both in the South.

There are also around 500,000 Palestinian civilians in central Gaza.
BREAKING: Alex Jones To Be Reinstated On Twitter/X
10.12.2023
(Tyler Sizemore/Hearst Connecticut Media via AP, Pool, File)
Musk posted a poll yesterday asking if Jones should be reinstated, with the results showing 70% of those responding in favor. Early this morning, Musk tweeted: "The people have spoken and so it shall be."

Jones's posts are now visible again — the last one from 2018, when the company permanently banned him and his Infowars show for abusive behavior. That was before Musk bought the platform.

Musk, who has described himself as a free speech absolutist, says the move was about protecting those rights. In response to a user who posted that "permanent account bans are antithetical to free speech," Musk writes: "I find it hard to disagree with this point."
Merkwürdigerweise habe ich das vor wenigen Tagen bereits geahnt, als nach Vivik Ramaswamy nun auch Tucker Carlson Alex Jones interviewt hatte.
Hamas terrorists lose contact with Gaza leaders, surrender to IDF
10.12.2023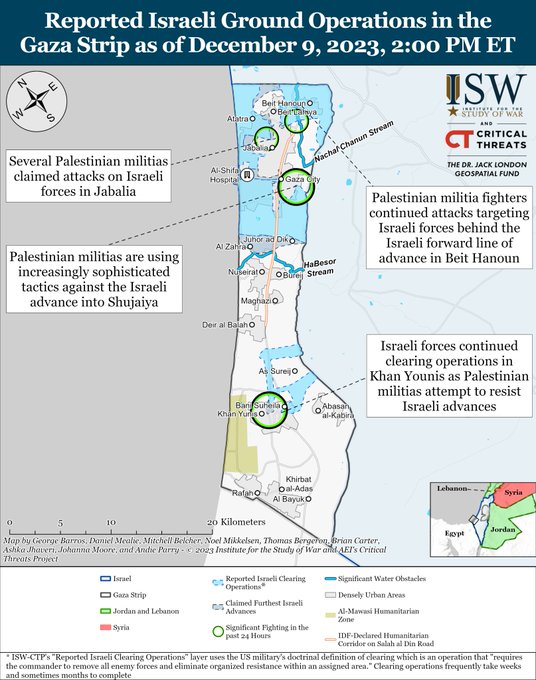 (Institute for the Study of War)
Dozens of Hamas terrorists lost contact with the terror group's leadership, leaving them with no option but to lay down their weapons and surrender to Israeli forces in the Gaza Strip, Army Radio reported on Sunday morning.
Earlier on Sunday, the US-based Institute for the Study of War assessed in an X thread that at least seven Hamas battalions have already capitulated in fighting with the IDF.

In addition, six battalions are "close to collapse," the Institute continued. According to the Insitute, the collapse of Hamas's Gaza City and northern brigades could signal the fall of the northern Strip to Israeli forces.

On Friday, Defense Minister Yoav Gallant told IDF soldiers that he "sees the signs indicating a breakdown is beginning inside Gaza."
Über die richtige Perspektive und die in der Israel-Kritik Verlorenen

9.12.2023
Congratulations, Israel. You just won the information war as far as I am concerned. I saw the images of a naked woman's body being driven around Gaza in the back of a pickup truck after the Hamas attack and knew that something terrible had happened.

Now we know, and I have no problem believing the accounts by Israeli officials at the UN. I understand the reason for Israel's response, and it is unfortunately what has to be done. I checked the main women's rights groups and websites and there was really nothing about this until after Israel's UN presentation. Al Jazeera is so far ignoring it, but a search of their website turned up an article accusing Israel of manufacturing evidence.

However, Israel has convinced me. I am not Jewish or even religious, but what has happened is so far off the scale in terms of common humanity that I don't know what to say. I used to think of myself as progressive, but that seems to have come to mean a de facto support of this barbarism by Hamas. All the environmental groups seem to be in a competition to condemn Israel, and they are making a grave mistake in my opinion.

So be it. The evil and depravity that has taken over large sections of the population in Gaza has no comprehension of the Enlightenment values that have guided the world. Israel, despite having its extremist factions, does understand those values and therefore has my support in this sad time. Of course, one should avoid war when possible, but what else to do?
People have lost perspective. In World War II, when the American troops were arriving to liberate the Philippines, they had to take the city of manila. The Japanese had embedded themselves into the civilian population as a way to deter the US military. (Is any of this sounding familiar?) The Filipino militia told the US military to do whatever they had to liberate Manila. In the resulting attack 50,000 civilians were killed by the Japanese and the other 50,000 civilians were killed by friendly fire from the Americans.

I'm sorry but that is the only kind of sacrifice that is going to solve this situation for the long term. Anything else is just globalist leftist propaganda garbage.
Der Wert dieses herausfordernden Themas: Der Punkt, an dem unterschwellige Boshaftigkeit herauskommt (wie wir sie auch von linksgrünen Ideologen gewohnt sind), ist erst mit dem Hamas-Angriff und den Reaktionen darauf deutlich geworden. Auf einmal sieht man ziemlich deutlich, was mit einigen Leuten nicht stimmt.
IDF says Hamas continuing to fire rockets at Israel from south Gaza 'humanitarian zone'
9.12.2023
(Israel Defense Forces)
The IDF says Hamas has continued to fire rockets from a "humanitarian zone" established in southern Gaza's al-Mawasi area.

It says that yesterday at 6 p.m., "Hamas terrorists launched numerous rockets into Israel from the designated humanitarian zone."

Another four rockets were fired from the al-Mawasi area at 1:56 p.m. and 2:16 p.m., but "landed in the Gaza Strip and endangered many citizens in Gaza," it says.

"This is further proof that Hamas exploits the IDF's humanitarian zone for terrorist activity," the IDF says.
Das versteht die Hamas (aber anscheinend auch die UNO, Rußland usw.) unter "humanitär".
Israel schießt erstmals im Weltall eine Houthi-Rakete ab
6.12.2023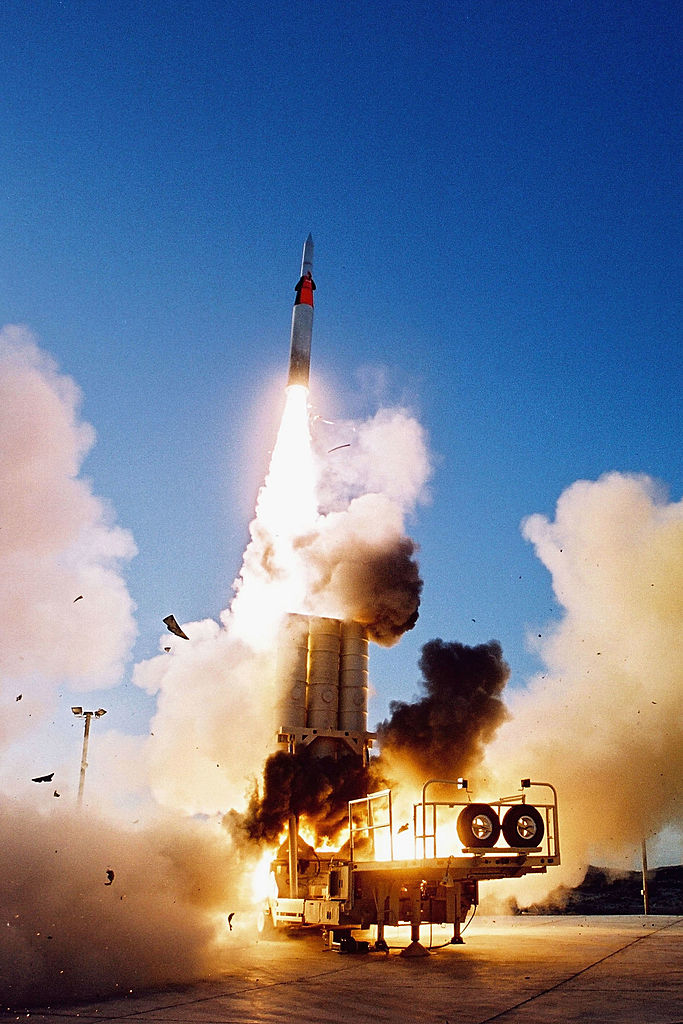 (Photo by Israeli Aircraft Industries/Getty Images)
Am Ende gewinnen immer auch die Klügeren.
As previously reported, the capability of the Israeli-U.S. Arrow missile has been noted by Western partners, and Germany has just placed a major order to buy the defence system from Jerusalem this year. Said to be worth $3.5 billion, it is one of the largest defence sales deals for Israel ever and is expected to be delivered by 2025.
Neue Forsa-Umfrage zur deutschen Politik
6.12.2023
Da auch der AfD keine Lösungen zugetraut werden, bin ich gespannt, wie die Umfragen ab Neujahr mit Einschluß der BSW aussehen werden.
Wäre am kommenden Sonntag Bundestagswahl, würde nur jeder dritte Wähler für eine der Regierungsparteien stimmen.
Troops fighting in heart of Khan Younis as battles intensify — IDF
5.12.2023
(IDF Spokesperson)
Größte Stadt im südlichen Teil des Gaza-Streifens.
"This is the most intense day [of battles] since the start of the [ground] maneuver, in terms of terrorists killed, the number of engagements and the use of fire from the ground and the air," he adds. "We plan to continue attacking to deepen achievements."

The army says that troops have managed to raid a number of Hamas posts in Jabaliya and Shejaiya, taking out arms caches and "terror infrastructure both above ground and below."
Israel is preparing to flood the Hamas tunnel network in Gaza - report
5.12.2023
(credit: REUTERS)
Es war schon länger vorgeschlagen worden, die Tunnel mit Seewasser zu fluten. Bedenken gibt es wegen der Geiseln und aus Umweltschutzgründen (Versalzen des Bodens etc.). Auf der anderen Seite würden sicher Menschenleben geschützt, die bei langwierigen Aktionen gegen Kämpfer in den Tunneln gefährdet würden.
The process could take weeks and therefore could allow Hamas's fighters to evacuate, potentially taking the hostages with them. However, it isn't clear whether Israel would wait until all hostages are returned.
Ein Kommentar:
Don't want them flooded? Return the hostages and surrender. Don't want anymore civilian casualties ? Return the hostages and surrender. Want to destroy Gaza's aquifer ? Continue to keep the hostages and continue to launch missiles and threaten more attacks.
Its all in Hamas's hands. They can stop this war tomorrow by releasing the hostages and surrendering or they can see Gaza destroyed.
Außerdem muß das Tunnelsystem ohnehin zerstört werden.
4.12.2023
(unsplash.com, @redcharlie)
Deutschland war einmal schön. Eine wahre Demokratie. Ein friedliches, wohlhabendes Land, in dem sich Arbeit und Leistung noch lohnte und die Menschen dadurch zu einem gewissen Wohlstand kamen. Ein Land, in dem man offen seine Meinung ohne Repressalien sagen konnte. Ein Land, in dem man noch bezahlbare Energie bekam. Ein Land, in dem Intelligenz vor Ideologie herrschte. Ein Land, in dem die Bevölkerung der Souverän war und die Politiker dessen Angestellte. Ein Land, in dem man seine Zukunft noch planen konnte. Ein Land, in dem es noch eine 4. Gewalt gab. Ein Land, in dem man gut und gerne lebte. Ein Land, in dem man noch ohne Angst auf die Straße gehen konnte. Das ist leider schon lange vorbei. Und solange, wie sich der politische Kurs nicht ändert, werden wir von diesen Zeiten auch in Zukunft in der Vergangenheitsform reden.
Mordechai Kedar: 'The Palestinian Emirates Plan'
4.12.2023
Mordechai Kedar (Wikipedia)
Mordechai Kedar was born in Tel Aviv.[3] His Polish-Jewish parents moved to Mandatory Palestine in the 1930s.[3] Kedar's first language was Yiddish.[3]

Kedar is a Religious Zionist and an expert in Israeli Arab culture. He served for 25 years in IDF Military Intelligence, where he specialized in Islamic groups, the political discourse of Arab countries, the Arabic press and mass media, and the Syrian domestic arena.[4]

He holds a Ph.D. from Bar-Ilan University. He is fluent in Hebrew, Arabic, and English. He is described as "one of the few Arabic-speaking Israeli pundits seen on Arabic satellite channels defending Israel".
Siehe auch:
Graphic report details new evidence of rape, sexual violence during October 7 rampage
4.12.2023
Ekelerregende Greueltaten der Hamas am 7. Oktober. Danach wochenlanges Schweigen bei internationalen Organisationen.
The main UN Women account did not make any mention of such reports until November 25, when it stated that it was "alarmed by gender-based violence reports on 7 Oct and call for rigorous investigation."
Auch schön entsprechend der Woke-Ideologie formuliert.
Präsident der "Klimakonferenz" gegen Ausstieg aus fossilen Brennstoffen. Würde uns "zurück in die Höhlen" bringen
4.12.2023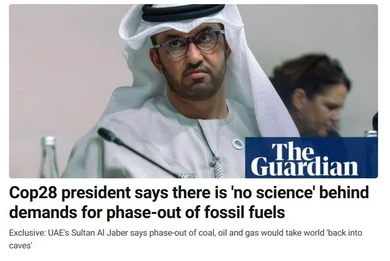 Es gibt keine "globale Erwärmung".

Das ist bloß ein Mythos, der dazu erfunden wurde, um ganz andere Interessen als "Umweltschutz" voranzutreiben (u.a. Kontrolle über die Massen durch selbstherrliche Poilitiker; Konzerngewinne in verschiedenen Branchen; Kontrollwahn des entfesselten Rationalismus; Ersatzreligion für Gut- und Bessermenschen, und vieles mehr).

Beweis: Gäbe es eine globale menschengemachte Erwärmung, dann würde schon seit mehreren Jahrzehnten und kontinuierlich auf dem ganzen Planeten der Meeresspiegel ansteigen (wie in den 1980ern bereits von Alarmisten prognostiziert - London, Amsterdam, Hamburg, Bombay und viele andere Großstädte würden dann längst unter Wasser stehen). Selbst Venedig, das seit Jahrzehnten regelmäßig Wasserhochstände erlebt, die bis in die Stadt dringen, würde es schon längst nicht mehr geben.

Die angeblich von Statistikern bezeugten Temperatursteigerungen resultieren aus Änderungen in den Meßverfahren und daraus, daß sich viele Meßstellen in stadtnahen Positionen befinden. Es sind die "Klimaforscher" und die mit diesem angeblichen Wissenschaftszweig verbundenen Beschäftigten, die durch den Klimawahn ein sicheres Einkommen haben und wenig oder kein Interesse daran haben, daß der falsche Mythos aufgedeckt wird.

Der Klimawahn ist außerdem Vorläufer des Corona-Wahns, mit dem die massenhafte Täuschung dann noch einmal auf eine höhere Stufe geschraubt werden konnte — ebenfalls durch Erzeugung von Angst und Panik sowie durch Lügenpropaganda in den gleichschalteten Massenmedien.

Übrigens wurde ca. 2000 vorausgesagt, es würde in Deutschland aufgrund der menschengemachten globalen Erwärmung im Winter keinen Schnee mehr geben...
Netanyahu: Palestinian Authority can't return to Gaza, this isn't Oslo II
3.12.2023
(photo credit: AMOS BEN GERSHOM/GPO)
Keine Rückkehr der PA (Palästinenische Behörde unter Abbas) in den Gaza-Streifen. Den Fehler begehen die Israelis nicht noch einmal. Selbst wenn die USA, die EU, UNO und weitere Regierungen oder Organisationen das verlangen.

Aus den Kommentaren:
The international community is and will remain insensitive and impervious to Israel's security needs. The Oslo accords have proved to be an unprecedented disaster for the state of Israel. After the war, and in order to safeguard the Jewish state , the government will be required to overhaul its security doctrine.

Israel will need to impose general control of Gaza, Judea, Samaria and the Jordan Valley. The Israeli government should be expected to declare in formal terms that the edification of a Palestinian state is quintessentially incompatible with the existence of the state of Israel. Arab residents of Judea, Samaria and the Jordan Valley will be legally obliged to comply with Israeli law. All Arab groups carriers of a genocidal agenda will be outlawed and face prosecution and imprisonment.

Where the security of the state of Israel is at stake, there can be no room for compromise and fragile deals. We owe this to all the innocent victims of the pogrom which occurred on Israeli soil on October 7th, 2023.
Ramaswamy: GOP Is 'a Party that the Establishment Effectively Co-opts Politicians as Their Puppets'
2.12.2023
Aus den Kommentaren:
Vivek does a great job getting these jerks to expose themselves as the establishment supporters that they are. His point is well taken and obviously true. He and president Trump are the only candidates actually for the people and the only candidates able to criticize the establishment, the globalists, the international bankers, the deep state and our foreign adversaries because they do not take any money from them. Candidates are owned by their donors.
Menschen, die Politik generell für ein schmutziges Geschäft halten oder die alles, was in den Medien auftaucht, für "gesteuert" und für Schwindel/Betrug halten, oder die jegliches Engagement von Politikern als Befürwortung eines obrigkeitlichen Staates einstufen, unterliegen einem plumpen Vorurteil und pauschalen Denkmuster. Es gibt durchaus Unterschiede. Wie überall im Leben.

Und es sind diese Unterschiede, es ist das individuell Menschliche, das Bedeutung hat. Das gilt besonders für Figuren, die im Rampenlicht der Öffentlichkeit stehen. Wer das nicht tut, kann leicht aburteilen, aber trägt nicht zu einer sinnvollen Wertperspektive bei, sondern ergeht sich nur in dem, was ich "Durchblickerei" nenne.
Die neuesten Wahlumfragen in Deutschland
2.12.2023
IDF strikes over 400 Hamas, PIJ targets since Gaza war's renewal
2.12.2023
(photo credit: IDF SPOKESPERSON'S UNIT)
Fortsetzung der notwendigen Maßnahmen.
Now the task is to maintain that tempo until Hamas either surrenders (never gonna happen) or disappears.
Run the table Israel. The time for crying and hand wringing can come after the game is over.
Hamas: It doesn't matter how many hostages are still alive
1.12.2023
Falls jemand noch nicht mitbekommen hat, mit was für Leuten man es da zu tun hat:
A senior Hamas member said that the 10-month-old Kfir Bibas "paid the price because of the occupation."

The interview came a day before the ceasefire between Israel and Hamas ended, as Hamas refused to release the hostages it had committed to release and began launching rockets toward southern Israel early Friday morning.
Das Ende des Waffenstillstands; Kämpfe im Gaza-Streifen wieder aufgenommen
1.12.2023
(photo credit: IDF SPOKESPERSON'S UNIT)
Fortsetzung der Zerstörung der Hamas unausweichlich.
Hamas in Gaza fired rockets at southern Israel on Friday morning, setting off rocket sirens in the area for the first time in a week.

This marked the end of the temporary ceasefire in the region which held for one week.